When I started looking for a new trigger pull gauge, I noticed the brands I was used to were not made anymore. Instead there were 4 or 5 popular trigger pull gauges being sold, all with decent reviews, and I didn't know which one to pick.
So I bought all of them, and decided to pit them head to head against one another to find out which trigger pull gauge is the best bang for your buck. I reviewed these gauges for accuracy, reliability, ease of use, and of course price.
Trigger Pull Gauges I Tested:
Wheeler Manual Trigger Pull Scale
GPS Manual Firearm Trigger Scale
Wheeler Professional Digital Trigger Gauge
Lyman Electronic Digital Trigger Pull Gauge
Testing A Trigger Pull Gauge
I took dumbbell weights of a known size and weight and tested each trigger pull gauge for accuracy. Testing in increments of 0.5 pounds, all the way up to 11 pounds.
By taking 5 consecutive readings of each, I was able to determine how reliable the trigger pull gauges were.
I then tested each gauge on a pistol, a shotgun, an AR-15, and a hunting rifle. This was to test ease of use and see if there were any noticeable problems with the gauges.
During all these tests I was taking note of how easy or complex using each trigger pull gauge was and rating them accordingly.
If you just want to know which to get and don't care about the tests, the winner was the Lyman Electronic Digital Trigger Pull Gauge (link to Amazon)
Here's the video proof of the tests I did. A chart of results and additional info about the gauges below:
Accuracy Test Results (In Pounds):
| Weight | Wheeler Manual | Wheeler Digital | GPS Manual | Lyman Digital |
| --- | --- | --- | --- | --- |
| 0.5 | 0.5 | 0.31 | 0.3 | 0.5 |
| 1 | 1.2 | 0.625 | 0.75 | 1 |
| 2.5 | 2.62 | 1.8 | 2.4 | 2.48 |
| 3 | 3.3 | 2.25 | 3 | 3.02 |
| 3.5 | 3.6 | 2.71 | 3.2 | 3.5 |
| 5 | 5.2 | 3.625 | 5 | 5 |
| 5.5 | 5.4 | 4 | 5.5 | 5.48 |
| 6 | 6.2 | 4.45 | 5.9 | 6.1 |
| 7.5 | 7.5 | 5.91 | 7.4 | 7.5 |
| 8 | 8 | 6 | 7.75 | 8.08 |
| 8.5 | N/A | 6.625 | 8.5 | 8.5 |
| 10 | N/A | 7.25 | 9.75 | 9.95 |
| 11 | N/A | 8.4 | 10.5 | 10.96 |
To make these numbers useful, I added up all the differences between measured weight and the gauge reading. That way I could find a percentage of accuracy, which I listed in the chart below.
Accuracy Percentage After Doing Math:
| | Wheeler Manual | Wheeler Digital | GPS Manual | Lyman Digital |
| --- | --- | --- | --- | --- |
| Accuracy | 97.65% | 75% | 97.2% | 99% |
| Reliability | 99% | 99% | 99% | 99% |
It wasn't long before I realized that all the gauges were reliable. Even if not accurate, they were reliably not accurate. For example, the Wheeler Digital gauge was consistently wrong.
It may seem like the Wheeler Manual was the most accurate manual gauge, and it was, but it had other issues. Same with the Lyman, it was the most accurate but came with its own caveat.
Lets look at each gauge individually, where to buy them, how they worked, and what to watch out for.
Lyman Electronic Digital Trigger Pull Gauge
The Lyman Electronic Digital Trigger Pull Gauge (link to Amazon) was the winner for accuracy and my overall top choice.
However, I did have an issue when holding the gauge upside down. Since I was testing the gauges by lifting a weight on a string, that's how I held the gauge and saw a 2.3 ounce discrepancy in the readings.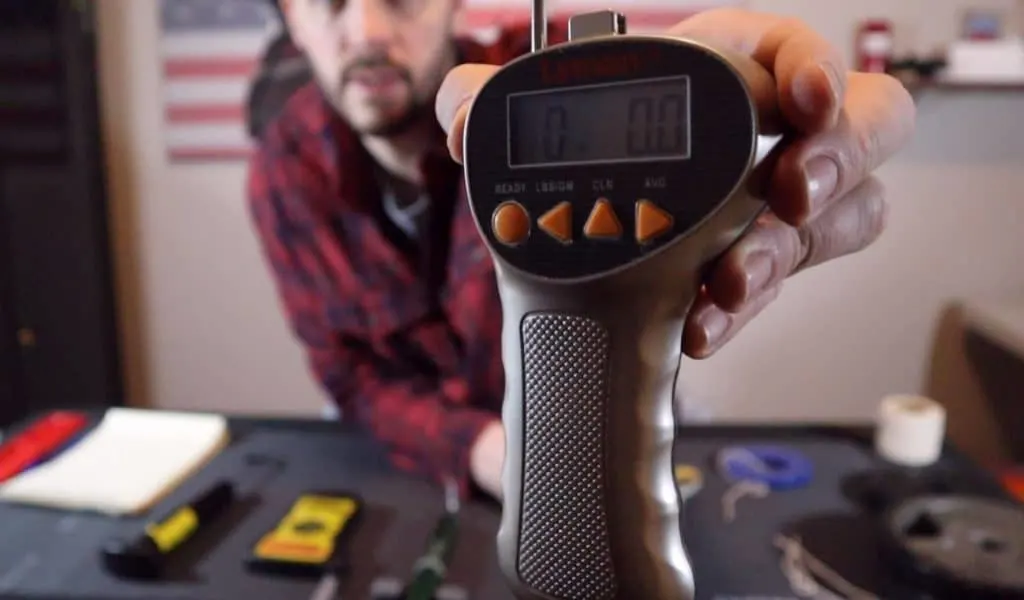 Even with no weight on the gauge at all, just holding it upside down the gauge read 2.2 to 2.3 ounces.
This wasn't an issue when testing actual firearms because then I was holding the gauge level and got accurate readings, but I still think it's worth mentioning here.
The trigger pull rod slid into the gauges housing making it easier to store, and the case it came in was better than any other I tested.
The pull rod, which you use to actually pull on a trigger, didn't rotate like some of the other gauges did, but I was able to still test a variety of firearms just fine.
Wheeler Professional Digital Trigger Gauge
Unfortunately, I can't recommend this trigger pull gauge. Maybe I just got a bad apple, but the readings I got were consistently off with this gauge.
I will see if I can send it back in, and update this post if anything changes with this gauge. I got it off Amazon here, Wheeler Professional Digital Trigger Pull Gauge and they're usually pretty good about sending replacements, we'll see.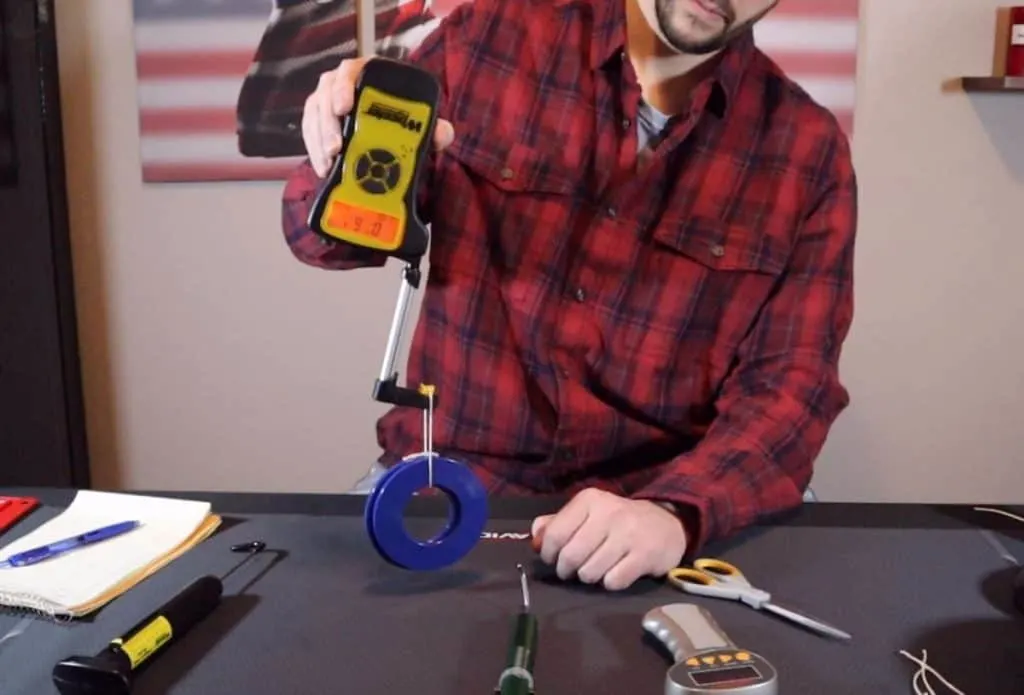 The pull rod rotated 45 degrees which was nice if I wanted to get a different angle on the firearms trigger, and it collapsed into the gauge housing nicely.
The controls were intuitive and the large buttons were a plus, but the bulky head on the pull rod made it hard to get into the trigger well on some of my firearms.
GPS Manual Firearm Trigger Scale
If you don't want to spend a lot of money, then I suggest this GPS Manual Trigger Pull Gauge (link to Amazon) it was my winner for manual trigger pull gauges.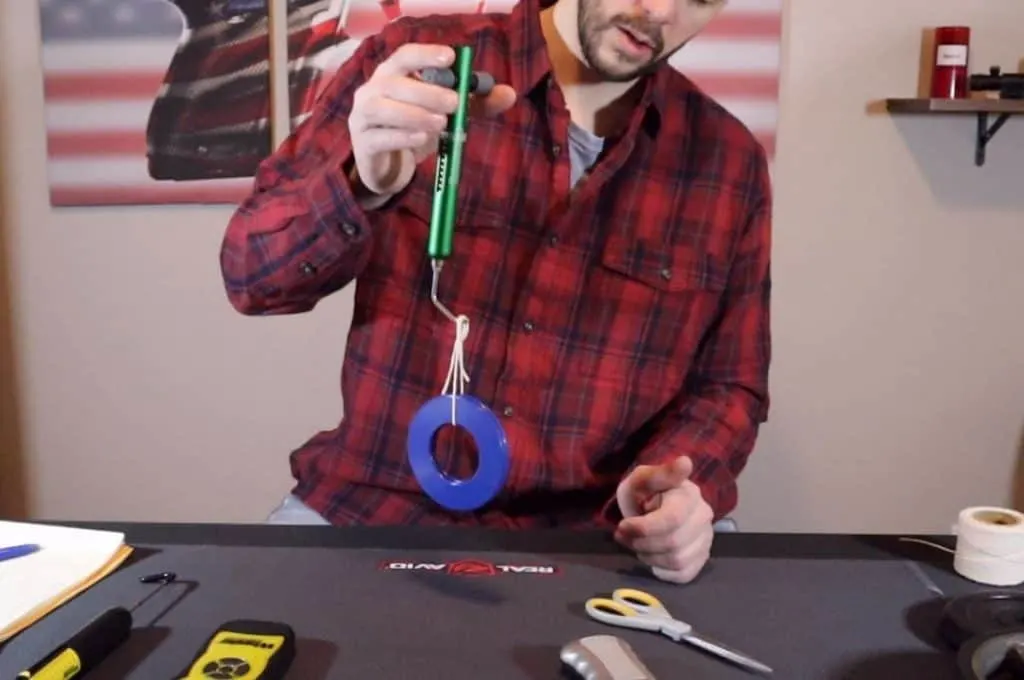 This gauge went up to 11 pound readings, which was more than the wheeler manual gauge, and it worked decently and consistently through all my testing.
The pull rod does not rotate to allow for different angles on the trigger, but the gauge has a compact design and it wasn't necessary anyway.
It was accurate, easy to read, easy to use, and for around 20 bucks, I'm a fan.
Here's a quick review video I did to show how it feels and works hands on:
Wheeler Manual Trigger Pull Scale
I wanted to like the Wheeler Manual Trigger Pull Gauge because it was the cheapest out of the whole bunch I tested. Granted only a dollar less than the GPS, but still.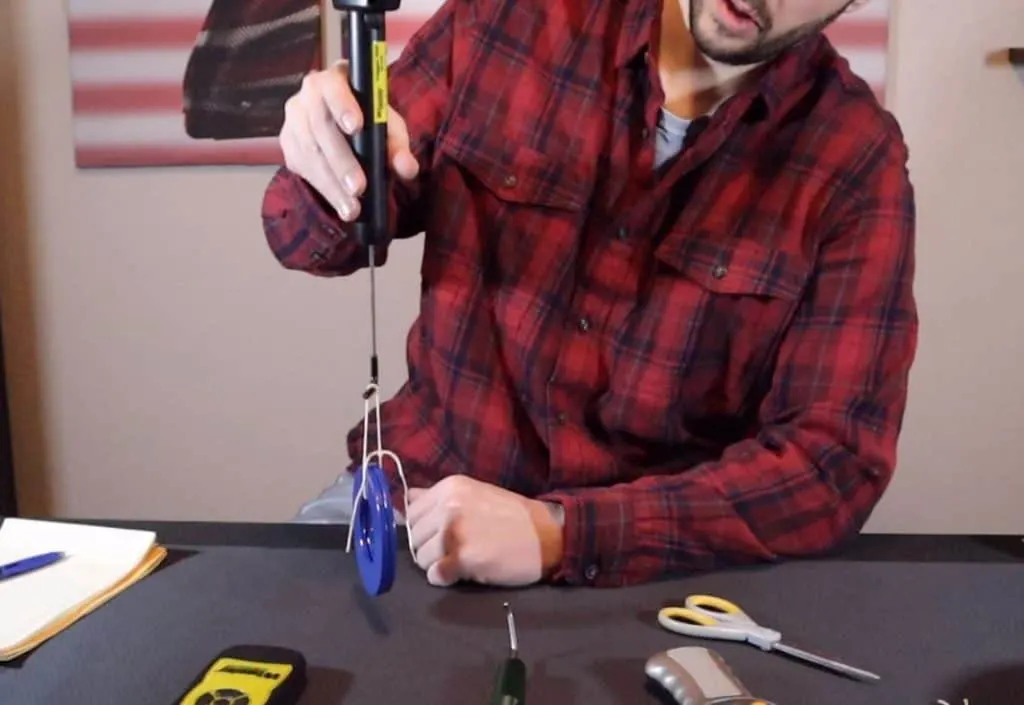 However, the readings marker on the side was not accurate. The gauge itself was accurate, but after you release tension on the pull rod the marker would slide back up a little giving you inaccurate readings.
It's easy to get around this by just looking at the gauge while taking your reading, which is what I did to complete the testing accurately, but it became too much of a pain for me.
When it worked, it worked. But having to keep such a close eye on the gauge while using it made it a hassle. The other options were so much easier to deal with, so this one failed the ease of use test for me.
The pull rod did rotate in any direction and the handle was easy to hold, but it just made me wish it was made with better quality parts.