When doing any type of work or maintenance on a firearm, outside of normal cleaning, it's best to have a good vise block. Keeping the weapon secure and steady while you work on it helps the job go by faster and reduces the risk of damaging the firearm.
There's are a few categories of AR vise block; upper receiver vise blocks, lower receiver vise blocks, and all in one gun vices. But they're not all made the same, and different models are better for different jobs.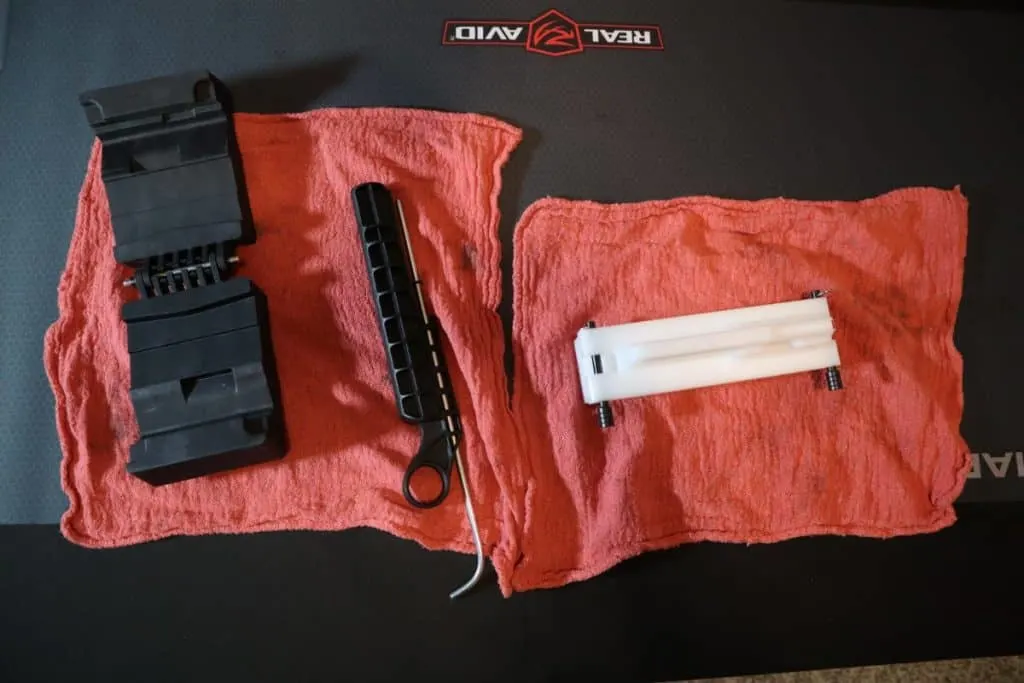 Upper Receiver AR Vise Blocks
Enclosure Type AR Upper Vise Blocks
These are the most common type of upper receiver vise block out there. They're usually inexpensive and can be found easily online. This is usually the first vise block a new AR owner gets to work on their firearm.
I recommend this Wheeler Delta AR-15 Vise Block Clamp (link to OpticsPlanet) for the enclosure type vise. It comes with an insert that goes into the upper to align with the gas port.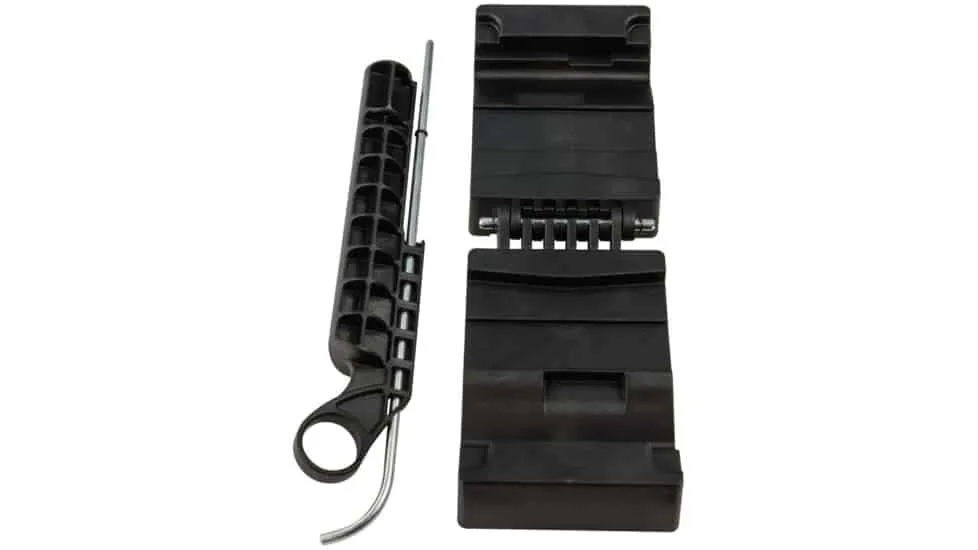 I have seen some complaints about this model not fitting certain lefty uppers. But every mil-spec upper I've had fits it fine.
It will fully enclose the upper, so if you don't feel like removing your scope every time you use it, check out the non enclosed versions below.
Features of the Wheeler Delta AR Vise Block Clamp:
Fits left and right-hand Mil Spec A2 upper, as well as flat top receivers Receiver insert with gas tube aligner included
Allows you to safely clamp on to your AR-15 upper receiver in a vise holding it securely without twisting, crushing or marring the finish
Made of a high pressure, solvent resistant polymer material
Non Enclosed AR Vise Blocks
This type of upper vise essentially does the same job as the fully enclosed vise block, except it connects to the uppers rear takedown and pivot pin holes.
That allows you to get the upper secured in a vise without needing to remove all your attachments you have mounted on the rails. I especially appreciate this for rifles that have a scope mounted.
I use the Obsidian Arms AR-15 Upper Receiver Vise Block (link to OpticsPlanet) and I haven't had any issues with it yet.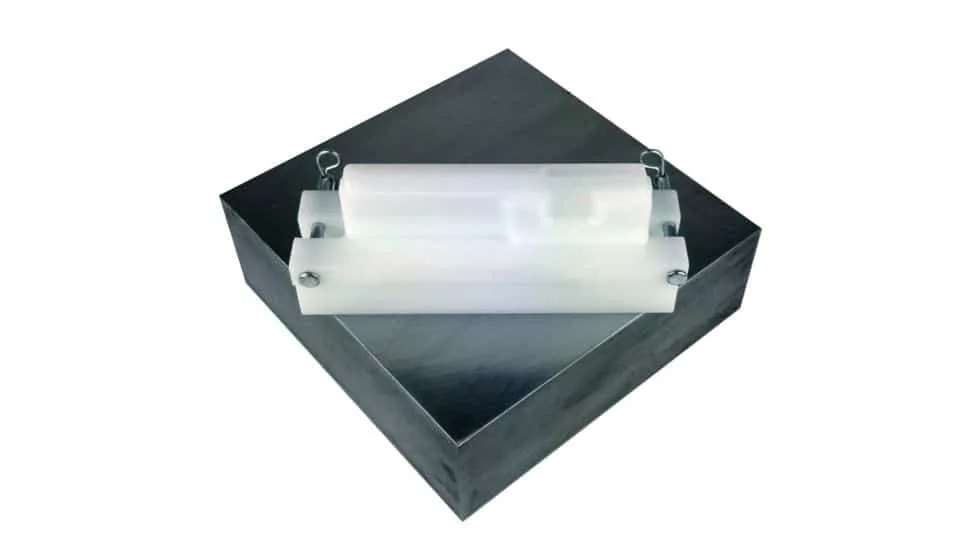 It's made out of a high density polyethylene and holds tightly to the upper receiver. This will also work with slick side uppers and even 9mm AR uppers, which a lot of the clamp type have problems with.
I've been able to swap barrels out easily and torque down on that barrel nut without an issue. This is a well built vise block. There are other companies making expensive fancy versions of this, but I wouldn't waste the money.
Here's a video review I did showing what comes with the vise block and how to attach it:
Features of the Obsidian Arms Upper Vise Block:
Fits all standard AR-15 upper receivers
High-density polyethylene (HDPE)
Locking pins included
Lower Receiver AR Vise Blocks
Most lower receiver vise blocks are inserted into the mag well and hold the lower in place while you clean or assemble it without scratching the finish of the firearm.
The biggest issue I've seen with these lower vise blocks is that they don't always fit every mag well the same. There always seems to be some wiggle room, and I don't like it.
That's why I recommend the Real Avid Smart-Fit AR-15 Lower Vise Block (link to OpticsPlanet) because it lets you adjust the fit to be used with every AR-15 mag well there is.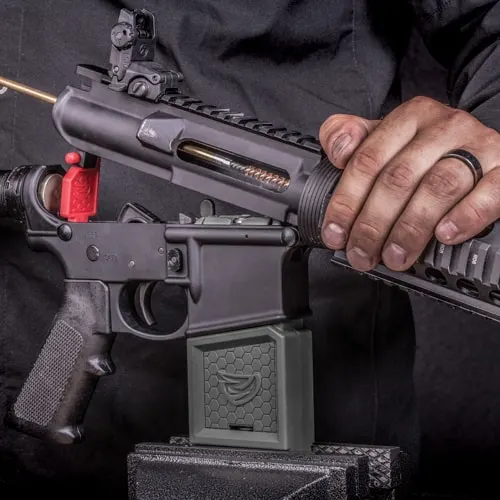 I like the little clip it comes with to hold the takedown pin for cleaning the barrel. This type of lower vise block comes in real handy when putting on a buffer tube as well.
Features of the Real Avid Smart-Fit Lower Vise Block:
Features: Great for changing buffer tubes / pistol grips
Revolutionary design expands to fit in all AR15 Magwells
Includes AR15 Pivot Lock to securely hold upper open for cleaning
Knurled Texture for improved Grip in Vise
Specs: Fits .223/5.56 AR15s
Adjustable Moves to Expand block
Expanding Sections Custom Fit Any Magwell
Magazine Lock
Threaded Post Adjusts Wedge
Oversized Edge for Precise Fit
Knurled Texture for Improved Grip
Adjustment Handle
All In One Vise Block Kits
They do make all-in-one vise block kits that include an upper clamp on vise block and a lower AR vise block, but I tend to get them separately. That way I can pick which works best for my uppers and lowers individually.
However, I do recommend checking out the Pro Mag AR-15 Upper/Lower Mag Well Vise Block Set (link to OpticsPlanet) if you do plan on going that route.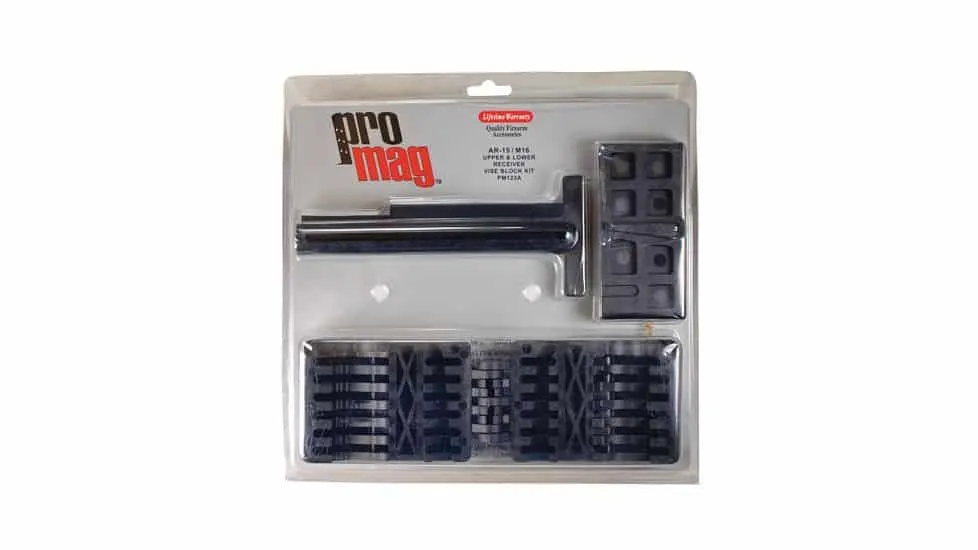 This set has 5 star reviews everywhere I can find it being sold, and the price is reasonable.
Features of the Pro Mag Vise Block Set:
Three-piece set of heavy duty blocks securely clamp all flat-top and carry-handle AR15/M16 upper and lower receiver components to prevent damage or movement during repair, assembly and cleaning. Constructed of impact resistant glass filled nylon.
All In One Gun Vise
This is the ultimate way to go, a full out gun vise. These can usually be used on a variety of rifles for cleaning, gunsmithing work, or even sighting in. They can get a bit pricey, but tend to be worth it.
I'd say have a look at the Tipton Ultra Gun Vise (link to OpticsPlanet) if you want the best bang for your buck.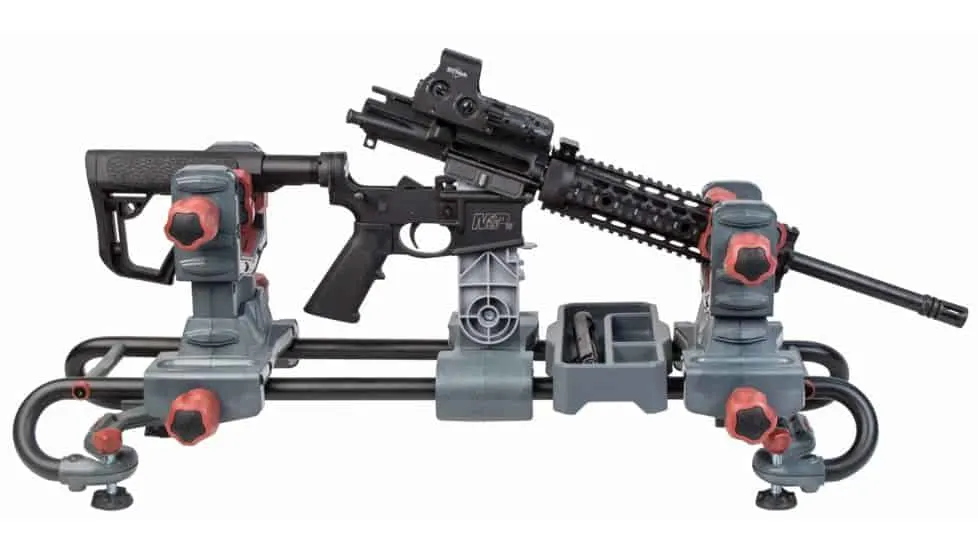 The coolest thing is how versatile it is. You can slide the mounts any which way to work on multiple weapons easily.
Features of the Tipton Ultra Gun Vise:
Rigid Steel Frame
Independently clamping and sliding assemblies allow virtually any shape firearm to be utilized
Switching up the assemblies allows you to position your gun exactly where you want it
Solvent resistant accessory and tool trays are movable and removable
4 independently leveling feet to level your gun for scope mounting
Extra wide, up to 26.5in of clamping distance
Slide the clamps closer together for short framed rifle or handgun work
Modular chassis design allows you to move the center assemblies around to meet your needs
Non-marring over molded surfaces to protect your gun
Center Mag Well block for AR style rifles
Independently adjustable front and rear clamps
Different modules can be quickly moved, rearranged or removed anywhere along the rail
Over molded rubber contact pads throughout the device prevent damage to firearm
Ball and socket articulating clamp pads allow for the pads to adapt to any surface
Leveling feet on all corners makes scope leveling easier
Dual Clamp Technology rigidly holds any gun shape in place
Tube frame structure allows for complete access to your rifle
Fast-Turn knobs, for quick clamping
AR Vise Block module included for working on and cleaning AR-15s
Front and Rear clamps are both height and length adjustable
Modular system allows you to clamp components like AR Upper assemblies without needing to have them attached to the lowers.
Works with break action firearms. You can clamp the forward/barrel while leaving the rear to swing open
Works with Pistols allowing you to mount optics or clean efficiently
2 re-arrangeable or removable accessory trays
Engineered Glass Filled Nylon construction provides a high level of rigidity while preventing damage to your firearm
Stainless Steel reinforcing plates throughout the design provide reinforcement and rigidity
Solvent-resistant materials stand up to years of hard use